Basic Menu Navigation is consistent across almost all Yealink phone models (allowing for exceptions in screen size, color, etc.). Most menu operations will describe the process from an idle state. Many operations can NOT be attempted while you are engaged on active calls. Returning to an idle state starts with completing all active calls, and dismissing any notices for missed calls or messages that may be displayed such as this: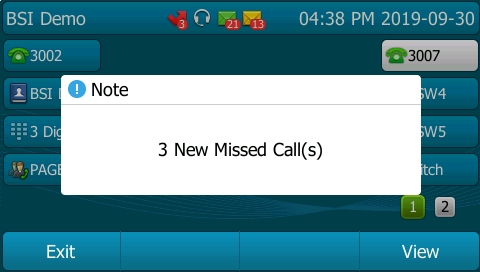 Press the Exit soft key at each notice to return to the idle screen: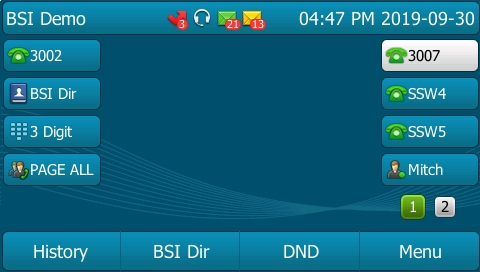 From the idle screen, the configuration menu can be accessed by pressing the Menu soft key which will open the menu:
Within the menu screens, menus can be navigated, and options selected or changed using the navigation pad arrows and the OK button in the center (which functions the same as the Enter soft key. Alternatively in some cases, dialing numbers can be used as a short cut. Here we see the menu with numbers added to show the implied short cuts:
If we were to navigate (down arrow) and press OK, or alternatively just press the number 5, we would open the message menu:
When complete, press Back or Exit as many times as required to return to the idle screen.
If an incoming call interrupts your navigation, unsaved changes are lost.