The following document summarizes call History operations.
Viewing & Navigating Call History Lists
Start from the Idle screen: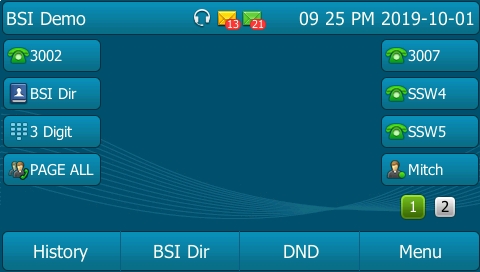 Press the History button (or the Up navigation key)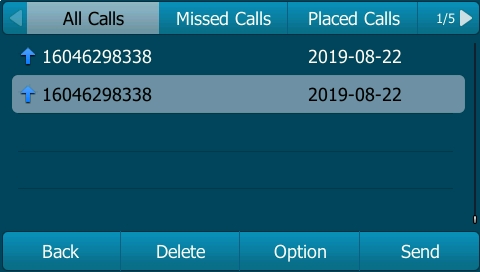 Select the Call History list you want to view by using the Left or Right navigation keys. Available Call History lists are:
All Calls - Shows all calls placed, received, and missed on the phon
Missed Calls - Shows the last 60 missed calls
Received Calls - Shows the caller ID of the last 60 answered calls
Placed Calls - Shows all calls placed from the phone
Forwarded Calls - Shows calls forwarded by the phone (on desktop phone sets only)
Select the specific call you want to view by using the Up or Down navigation keys.
The soft keys on the bottom of the screen allow you to:
Press Back to exit the History function.
Press Delete to remove the record of the call (see note below)
Press Option to open a sub-menu
Press Send to dial the number using the associated line
Press OK (center of navigation pad) to view the details
Pressing Option opens a sub-menu 
Here we see further options for this call record:
Detail opens the Call History Detail record
Add to Contact
Add to Black List
Delete All deletes all Call History lists
Here we see a sample Call History Detail record:
The soft keys allow you to press:
Back to exit the detail record to the History list
Edit jumps to the dial screen as if you had entered the number, but not dialed
Send dials the number as displayed
Here we see the results of pressing the Edit soft key. You could use the Left or Right navigation keys to move through the number (for example to insert 011 for international, or remove it as needed), or change the Line to be used (if applicable) prior to pressing Send
Deleting an Entry from the Call History Lists:
Press Option and select Delete Entry.
Deleting the History List:
Note that even if you delete one or all calls, that the call records are still maintained by multiple parties. Each carrier involved in routing the call will still have record of that call occuring.
Calling from the Call History Lists
To dial a number from one of the Call History lists:
Choose the call.

Press Send.
If the call was from a long distance number or an outside line, you may have to edit the call before dialing it. Press the Option -> Detail button and Edit to edit to the number before dialing.

Saving a Call History List Number to Your Directory
In the call history list, choose the call.

Press Option and select Add to Contact. Note that this address book is local, and can be lost if not exported / managed.

The Add to Contact screen appears.

Edit the information (if desired) and press Save. The entry is added to your directory.