Message Center (Voicemail) to Email is a powerful option for message delivery and can be managed through PhoneOpts. By converting voicemail to an audio file and forwarding it by email you can:
Deliver the message to multiple people through the use of an email alias
Archive voicemail messages for long term storage
Use voicemail messages to trigger other activities such as starting tickets in a support or CRM application
Voicemail messages can be:
Stored in the Message Center (or "on the phone")
Forwarded by email but also stored in the Message Center (not deleted).
Forwarded by email and removed from the Message Center (deleted).
When you leave messages in the Message Center you are limited to 100 messages before your mailbox is considered full. By forwarding and removing from Message Center you can store as many voicemails as you want for as long as you like.
The following options are available for voicemail forwarding:
Include a link. When a link is included, the message contains an encoded link used to store an online version of the message. This can be used when it's deemed easier to click a link than to download an attachment. The link will direct you to an online player and gives you the ability to download the message if desired. Links are only available for 90 days.
Email Format. Options include HTML and Plain Text. Most people will prefer HTML - but certain applications like ticketing or CRM integration might work better with Plain Text.
Attachment Format. Attachments can be MP3, WAV, or None. The only time "None" is allowable (or makes sense) is when a link is included. Using a link instead (with None) instead of an attachment may be ideal for ticket systems and CRM systems.
Delivery to SMS Number (& SMS Format) *. Messages can be formatted and sent by SMS (Text Message) to a cell phone. Please see the related article below.
Text Transcription*. Messages can be transcribe to text through an automated process (message data does not leave Canada during processing).
Find-Me / Follow-Me*. Calls to a desk extension can ring directly to a home office or cell phone. Calls are confirmed (i.e. you answer and press 1 to take the call).
Callback*. Messages can include a callback link. Callbacks enable you to click a link to initiate a return call. Requires Follow Me mode (or access to a desk phone or soft phone when you click the link. This option can be helpful in returning calls from your mobile device without revealing your mobile number to the people you are calling as your office call display is shown.
* Premium features including Delivery to SMS Number, Text Transcription, Follow-Me, and Callback may not be available or included on all plans.
Sample Email Notification
Seen here is a sample of an email notification. An explanation follows below: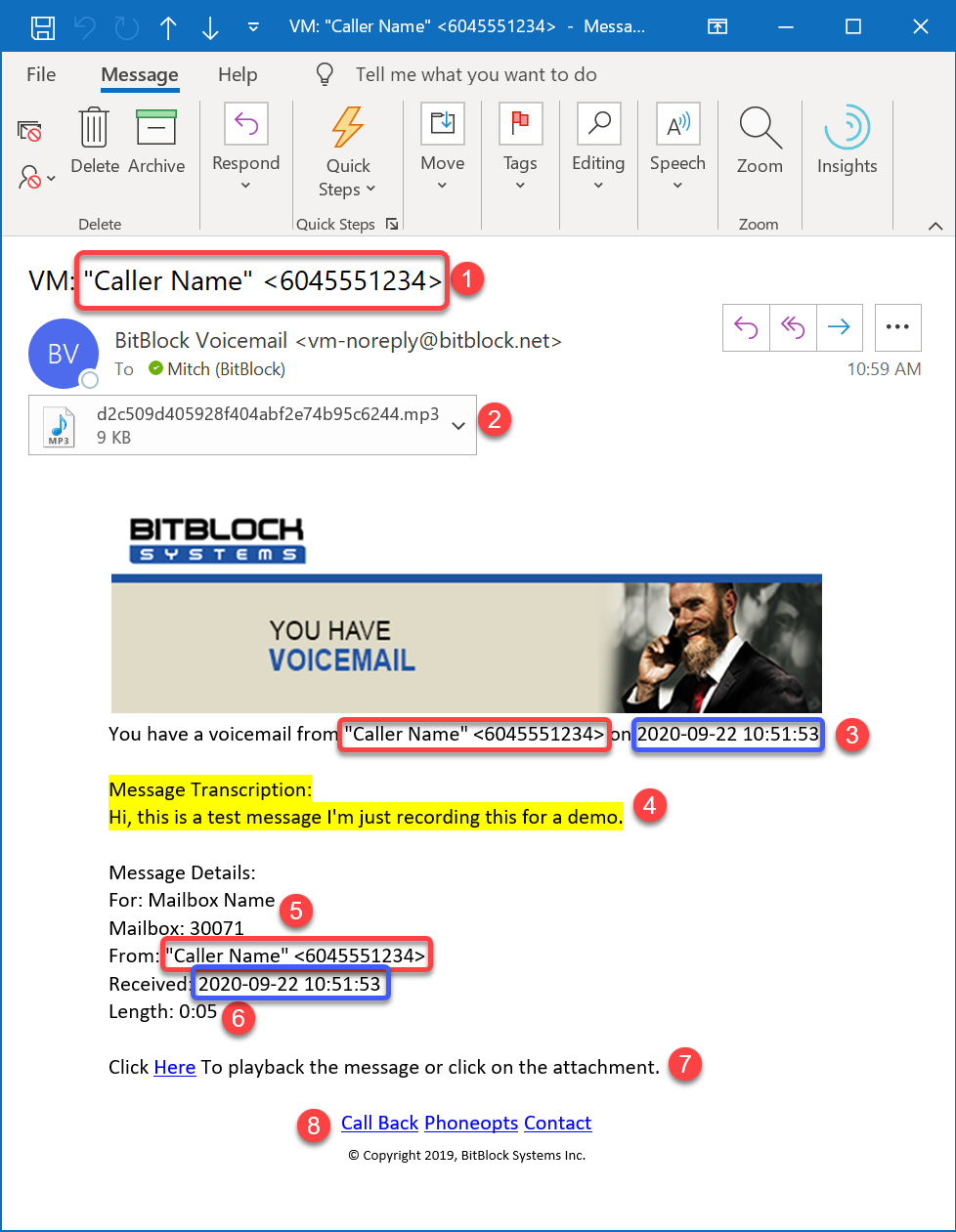 We will detail each of the numbered points here. Similar / duplicate information has been identified in a red or blue box to help highlight some information which our clients preferred to be repeated for readability:
1) Caller Name and number are shown in the subject line of the email, and repeated at the top of the message as well as in the "Message Details".
2) When enabled, the email may contain an attachment, or a link (see 7 below) or both. The message can not be removed from the phone mailbox, unless either an attachment or link is enabled.
3) The date and time the message was received are displayed at the top of the message and also below in the "Message Details". This is provided to eliminate any confusion due to any delays in receiving or reading email messages.
4) When enabled, Message Transcription may appear. The transcription can be useful to avoid the need to listen to the message however the attachment or link remain as a backup in case anything remains unclear.
5) At the top of the message details are the For and Mailbox fields. The For is the name of the mailbox - this could be a staff member or a role account such as "sales" or "support". This information is provided to clarify the mailbox the message was left for as some clients may chose to have multiple mailboxes notify the same person or people.
6) The message length in minutes and seconds gives you an indication of the size of the message without the need to play it. This can be useful in case the message transcription is truncated.
7) When enabled, a link to play back the message can be provided as an alternative to attaching an audio file.
8) When enabled, a link to call back the person who left the message is provided.
Making Changes
Please check out PhoneOpts to manage your settings - all you need if your Extension and Voicemail PIN. If you have any questions please contact support using the form below.